Happy Friday Everybody!
This morning I was paying bills online and updating my monthly budget spreadsheet when it occurred to me that this may be something that others find helpful. It's a super easy system that I use and is really helpful in knowing where you're at financially on a monthly basis.
I've done the hard part and created the spreadsheet in excel for you. I have filled it with examples, all you have to do is change the numbers to reflect your own finances. I am more than happy to email you the excel spreadsheet, just email your request to me at
cathhasablog@gmail.com
.
You don't have to do any adding or subtracting, just type in your own income & expenses...
all the calculating is done automatically for you.
See! Easy!
I look at this spreadsheet all the time and update it regularly. I also use a more in depth one based on each paycheque and what we'll be paying with each one but I will share that with you at a later time.
FIXED EXPENSES:
The fixed expenses are in the order of the monthly due date. That way it's easy for me to keep track of what is due when. Fixed expenses are items that will not change from month to month. We've all heard the saying 'pay yourself first'...ideally you should be putting away at least 10% of your monthly income into some form of savings each month. Most of my fixed expenses are set up with an automatic payment online through my bank account, a couple I have sent post dated cheques for and a few I pay manually online.
VARIABLE EXPENSES:
Variable expenses change every month. It's good to project what you expect to spend each month so that you can have an idea of how much money you actually have. A recommended system to spend your variable expenses is to pay for them with cash only, you can even make envelopes for each category. This will give you some perspective on how much you actually spend each month. Then you can come back to this spreadsheet and adjust accordingly.
Toni, over at 'A Bowl Full of Lemons' has a great Cash Envelope System on her blog if you're interested, and of course, it's done in a very fashionable way (think pretty envelope wallets!).
So are you wondering what i do with all the paper? Those dreaded bills that come in the mail! I have a household bills binder with dividers for each bill that I keep them all in. The binder idea was inspired by a post I read over at the blog Echoes of Laughter. Hint: No filing involved! (just hole punching!) Check it out!
I hope you find this helpful. I would love to hear your feedback on it!
Big Hug! Cath
I Have Been Featured!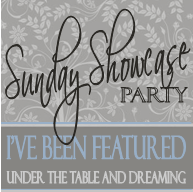 I am linking with these great parties: